Oil boiler service, based in Ashford
We offer oil boiler servicing in Ashford Kent, Romney Marsh, Tenterden, Folkstone and all surrounding areas.

Are you looking for Oil Boiler Servicing in Ashford? If so, you should get in touch with our OFTEC registered engineers so that we can book in a time to come and service your oil-fired boiler. Call us on 07768 618877 or use the contact details that are listed at the bottom of this page.
Our oil boiler servicing service
Servicing your oil boiler regularly helps keep your boiler working to its most efficient level. Not only does this help avoid boiler breakdowns and expensive repairs, but it also helps you reduce your energy bills. The OFTEC register (the trade association for the oil heating industry in the UK) recommends that you service your oil boiler on an annual basis; and we agree!
Book your oil boiler service today by calling our boiler engineers in Ashford Kent on 07768 618877,
Boiler on the Blink offer Oil Boiler Servicing Ashford locals can rely on to be thorough and long-lasting. When we arrive at your home to service your boiler, we'll inspect, clean and replace components on your boiler as required. The important stage of cleaning the boiler allows us to inspect parts like the heat exchanger and the combustion chamber for signs of rust, leakage and general signs of wear and tear. We will also check the oil storage tank and supply pipes for water contamination and clean/replace filter elements where required.
Why does your boiler need a service?
It is common for oil-fired boilers to lose their efficiency quite easily, we have outlined several ways that this could happen, and why you need to ensure that you get your boiler serviced annually...
Partially burnt fuel deposits can collect in the heat exchanger through everyday use, which in turn limits the amount of water that can be transferred into heat. This means your heat exchanger has to work harder to transfer water into heat, ultimately increasing the cost of your heating bills.
Oil boilers use oil nozzles to regulate how much oil can pass through to the burner. Oil nozzles wear over time and need to be replaced when required. If they aren't replaced, too much oil can pass through the burner and slowly build up in the heat exchanger, decreasing the efficiency of your boiler.
Electrodes, which produce the spark to light the fuel, can degrade through a collection of soot and other deposits. This means the electrodes have to work harder to ignite the flame or might not ignite at all, ultimately affecting the performance of your boiler.
Looking to increase the efficiency of your boiler? Get in touch with our boiler engineers in Ashford, Kent and book your oil boiler service!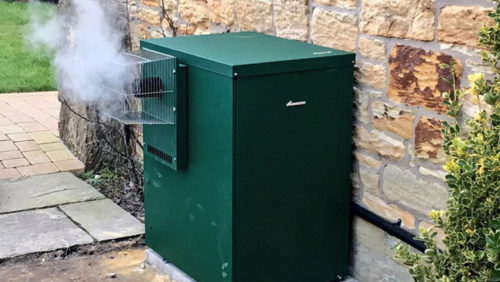 Why hire us for an oil boiler service in Ashford Kent?
There are several reasons why customers in Ashford Kent get in touch with us for an oil boiler service and why we have collected so many 5-star reviews:
We are OFTEC registered, so have undertaken all the necessary oil-based training and are fully qualified to work on and service oil boilers
We are accredited with a wide range of boiler manufacturers so can repair all oil-fired boilers, no matter the manufacturer, so we are qualified to service your oil boilers
We are extremely professional workers, as well as ensuring that we adhere to all government advice and safety regulations that have been put in place to deal with limiting the spread of COVID-19
We have full public liability insurance so you know you're in safe hands!
For Oil Boiler Servicing Ashford residents can trust, call our boiler engineers today and see our top class service for yourself!
Book your oil boiler service in Ashford Kent
To get in touch with our OFTEC registered engineers for an oil boiler service, please send us a message using our website's contact form and we'll get back in touch ASAP or call us today on 07768 618877. With competitive pricing and a wide range of appointments available, there's no reason not to get in touch; we'll look forward to hearing from you soon!